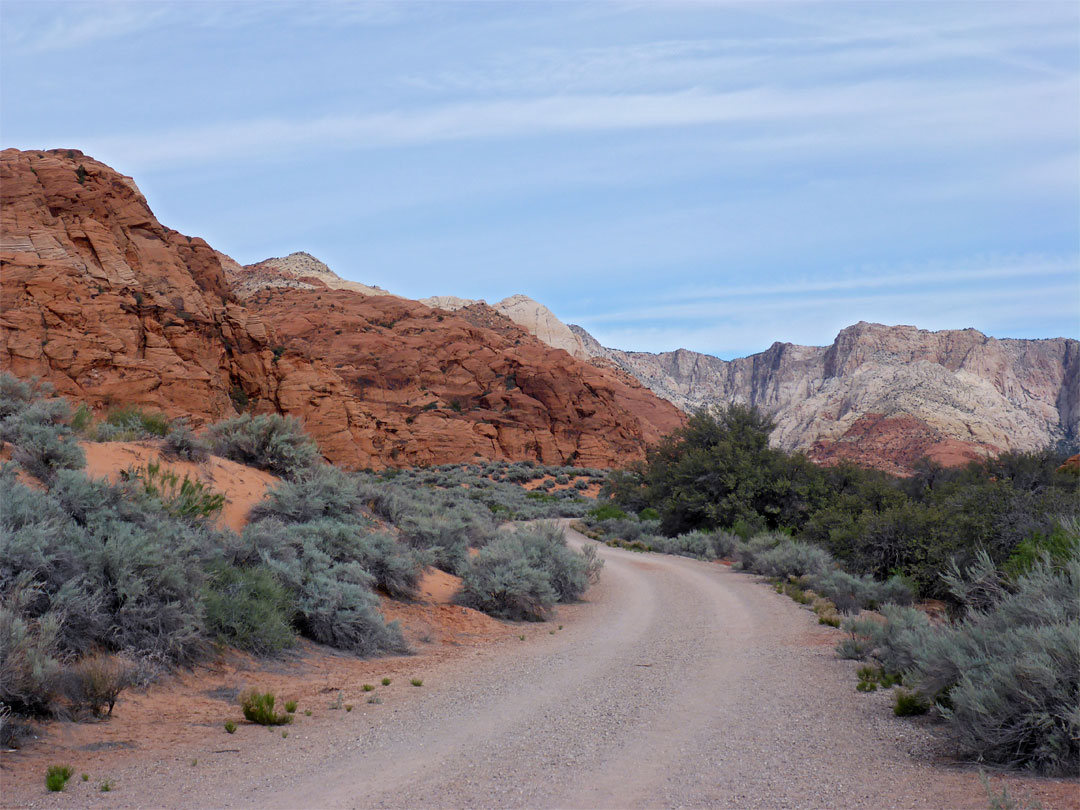 I have an out and back run into Snow Canyon State Park from my home that I just love. The last time I ran it, I was barefoot, in preparation for the St. George Marathon. So in preparation for the Salt Lake City Marathon I put this 16 mile run under my belt again barefoot.
The run stood out for me in a couple of ways. The first was how my feet felt deep into the Canyon, and the second was running it in the pitch dark, as their was no moon, just a blanket of stars.
When I previous ran this run I rember the decent back into Snow Canyon to be painfull enough to cause me to walk instead of running. The road is quite steep — it is surfaced with a fine chip seal — so it feals like course sandpaper. I also remember the next day that my feet were tender. So as I write this I notice two differences. The first is that I was a bit worried about running the marathon (StGeorge) because of how my feet felt. I powered up the hill against the wind and pushed hard. The wind was stiff and cold enough to cause my feet to go numb. Again I wondered how I would feel making the decent back in. At the top I threw down a few apples took a final look at my Garmin - 8.5 miles at the turn arround. The Sun had now disapeared and without a moon, darkness in the canyon, was soon upon me. I charged the down hill run. Checking my posture — sitting, lifting my knees, my head smooth, and my arms pumping vigorously. I kept expecting my feet to give out any second as I was going fast. But they did not, nor would they.
I was now under a great canopy of brillient stars. I could barely see the ouline of the road and was looking for the start of the trail path so I would not miss it. As I started this run I was pondering all the silly things my Dad would often say about people of Irish descent. All those steriotipical things that faced Irishmen since they imigrated to this country. I felt very connected to my anscestors this night — as the star filled sky blurred overhead against the contrast of almost pitch black Snow Canyon trail. At 41 years old I was simply determined to rebuild my life without the lies of the past. To stand on truth, to be all that my ancestors hoped, but never thought they could be. I thought of my Tongan freind who walks with heaviness, maybe carring all the burdens of his ancestors — those who once went from island to island with no compass — living with a great sense of adventure. He has pulled himself out of the Gheto's of LA and lives here with a beautiful family. I ran last night for my ancestors and for my posterity and it was incredible. There are no limits.
One last thought. The first time I ran this run I did not carry any extra food. I also did not replenish my glycogen stores after the run. I finished the run with strength and speed. I feel I could do the run again this morning. I also believe that my feet and muscles continue to get stronger and stronger. I look forward to my 2nd barefoot marathon in Salt Lake City in just a couple of weeks.
Michael Carroll